Upper Back Pain Treatment in Elizabethtown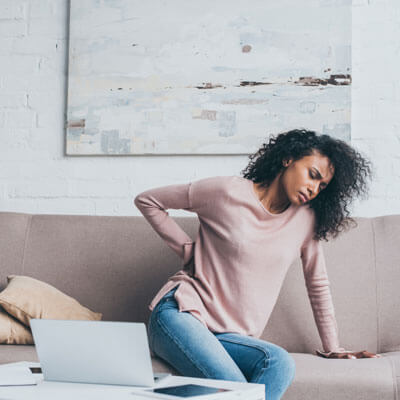 Upper back pain can result from a problem in the area of pain or may sometimes be a symptom of an issue originating from the lower back. While it's uncommon for upper back discomfort to cause lower back problems, the reverse can certainly occur. This is due to the interconnected nature of our spinal structure, where issues in one area can sometimes cause problems in another.
Contributing Lifestyle Factors
Often, upper back pain is more susceptible to lifestyle factors. For example, prolonged periods of sitting or working on computers can strain your upper back. Therefore, this type of discomfort might be responsive to exercise routines or lifestyle modifications.
The Chiropractic Approach
Chiropractic adjustments aim to improve spinal function, which can help heal discs and soft tissues, reduce nerve involvement, ease discomfort, and restore stability. We believe chiropractic care is the optimal choice for managing your back pain!
Our Process
Our treatment process begins with a comprehensive assessment to fully understand what's happening in your body. This approach ensures that we're not just treating symptoms, but identifying the root cause and addressing it directly.
If we believe you would achieve better results with a different treatment method or provider, we will inform you immediately. Your health and healing journey are always our primary concern.
Care Options and Ongoing Support
After the assessment, we'll discuss your care options, which may include various adjustment techniques or modalities. We welcome any preferences you have and will incorporate them into your personalized treatment plan.
Once we've performed a precise and gentle adjustment, we may recommend additional strategies, like specific stretches or muscle strengthening exercises, that can enhance your progress. Finally, we'll review your care plan with you to ensure transparency and schedule your next visit.
Book an Appointment
Put upper back pain in your past. Contact us today to schedule an appointment with Dr. Eriksen.
CONTACT US

Upper Back Pain Treatment Elizabethtown, KY | (270) 735-9090