Lower Back Pain Treatment in Elizabethtown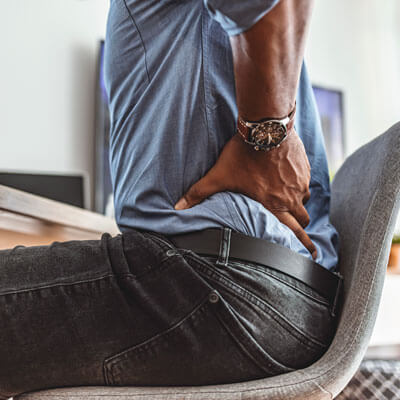 Low back pain can be a debilitating issue that affects your everyday life. It's important to understand the causes, symptoms, and treatment options available here at Commonwealth Family Chiropractic to help manage and alleviate this common condition. Here are two types of back discomfort we see:
Short-Term
Short-term low back pain, often resulting from a clear incident, such as a muscle strain, is typically temporary. However, even short-term back discomfort can indicate an underlying mechanical issue in the joints. These issues may lead to recurring episodes of pain, requiring further evaluation and treatment.
Long-Term
Long-term back pain usually signifies deeper, ongoing problems with the joints. Repeated episodes of pain, even if they're intermittent, indicate that it's not just a muscle problem.
Degenerative Changes and Arthritis
Degenerative changes or arthritis can lead to chronic low back issues. While these conditions are irreversible, their progression can be slowed, and the quality of life improved through various treatments. Regular treatments can significantly improve function and prevent further deterioration.
Assessment & Treatment
We begin care with an assessment to understand exactly what's going on in your body. That way, there's never any guessing-instead, we can focus on identifying the root cause and fixing the issue at its source.
After we've determined the cause of your discomfort, we'll provide the most effective treatment. This often involves therapies like muscle stimulation, exercises, adjustments, intersegmental traction, and lifestyle modifications. For some patients, the discomfort can be fully resolved, while others may require ongoing treatments to manage their condition.
For over 25 years, Dr. Eriksen has been helping people manage pain through natural, safe chiropractic care. Whether your low back discomfort is a short-term issue or a long-term problem, we're here to provide the support and care you need.
Book an Appointment
We want to help you get back to what you love in life. Contact us today to schedule an appointment.
CONTACT US

Lower Back Pain Treatment Elizabethtown, KY | (270) 735-9090